KHINMEY MONASTERY 5km
Khinmey Nyingma Gompa.
5km from Hotel Tawang Holiday. The Khinmey Nyingma Monastery, also known as Sang-ngag-choekborling, is located in the village of Khinmey near the headquaters of the Tawang District. The name Khinmey comes from the Monpa word Khi-Ket-Nyan-Mey, literally meaning a place for listening to the sound of barking dogs. Lengend has it that the area was once coverd by a thick forest teeming with wild animals. Hunter let loose their dogs in the forest and followed them by listening to their barks. It is said that, one day while hunting.Sonam Rinchin, a leendary hunter from Yubu village, met Rev. Kundun Sange Yeshe, the founder of the monastery, who was meditating in the vicinity. He soon gave up hunting and became an ardent disciple pf Rev. Yeshe. The area belonged to Sonam Rinchu and he offered it for the establishment of the monastery. As a result the Khinmey Nyingma monastery was founded by Rev. Yeshe,the first Thegtse Rinpoche, in 1440 A.D.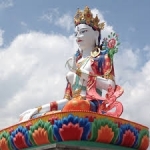 DOLMA LHAKHANG 40 km
White Tara
about 40km from Hotel Tawang Holiday is Lumla. White Tara is know as Jetsun Dolma and is apypical female Buddha who is extremely popular among lay Buddhists and those in monastic institutions. A giant 85-feet high White Tara statue is being constructed at Mon Lumla by the Society under the spiritual leadership and guidance of H.E the 13th Tsona Gontse Rinpoche.The main idea behind construction of this statue is to ensur peace and prosperty particularly of the people of the Mon region of India and of Bhutan and Tibet. The statue was supposed to be completed within three-four years from the starting of the work, but due to shortange of the fund the work has been delayed to the finacial year 2013-14. The construction Committee nd Society has been fund raising for the same since the fund received feom the government was utilized.To be noted hear that after completetion of this project will not only facilitate pilgrimage and tourism but also open the avenues for boosting economical condition of local populace and carries the massage of world peace and prosperity.Hence, the socitey and the Committee has been untiringly working towards the completion of this statue in date line.